Unveiling the Inner Workings of Inrico's System: Here's Everything You Need to Know.
3 Components make up a functional PoC radio
---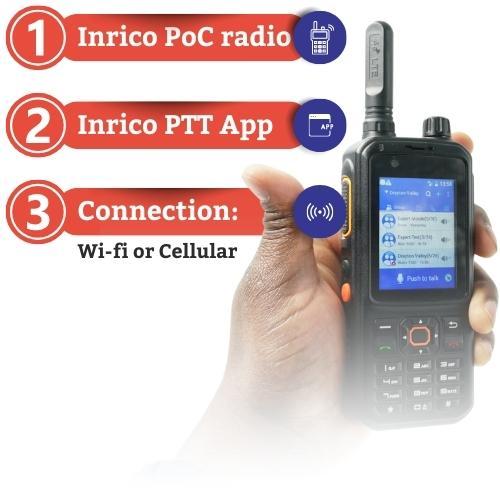 Inrico PoC radio

Inrico PoC radio
Inrico PoC radio seamlessly enables instant PTT communications for both one-to-one and group interactions, all complemented by advanced data transmission features. It's akin to merging the functionality of a traditional two-way radio with the versatility of a smartphone. Experience the best of both worlds with this innovative communication device.


PoC radios
(explained)

Inrico PoC radio terminals come in two main classifications, including the following:
Portable PoC radios: for handheld operations. Can be carried on the hip or in your pocket, and always right there when you need to hear and be heard to get stuff done.
Mobile PoC radios: perfect for on-the-go vehicle operations and convenient desk mounting at the office. When not utilized in vehicles, most users rely on these radios for effective dispatch, ensuring seamless communication with workers in the field.
Learn about portable PoC radios

iConvNet



iConvNet PTT App

PoC radios require a PTT app in order to allow its core PTT (instant communications) functionality. Experience the ultimate performance of Inrico PoC radios when paired with the iConvNet.


PTT Apps
(explained)
While Inrico PoC radios are compatible with other PTT providers like Zello and Mobile Tornado, using iConvNet ensures optimal functionality, security and features. Unlock the full potential of your Inrico PoC radio by operating it with iConvNet.

Cellular or Wi-fi
connection
Cellular or Wi-Fi Connection
Finally, PoC devices require a type of connection to operate. You can operate your PoC device using wi-fi or an active cellular network (LTE, 4G or 5G). We offer cellular data on an easy month to month billing cycle, providing you with up to 500MB of data per month per device.


Cellular or wi-fi
connection
(explained)
To facilitate its instant PTT communications for both one-to-one and group interactions, Inrico PoC radios require a connection. You can choose from the following connectivity options:

Wi-Fi: Operate your Inrico PoC radio using Wi-Fi alone, ensuring seamless communication with everyone in your group, regardless of their location.
Cellular Data: Use cellular data on its own or in combination with Wi-Fi to operate your PoC radio, tailored to your specific needs and organizational objectives.
Enjoy flexible connectivity options to suit your communication preferences.

Inrico Platform Architecture

---
Explore the diagram below to visualize Inrico's platform architecture. It showcases the seamless interactions between all functioning components within Inrico's communication network, including all the solutions offered by Inrico Canada.

Inrico PoC application scenarios
---
Inrico PoC supports real-time PTT call, video call and text messaging. Real-time dispatching is made easy and secure for various scenarios. It significantly improves the safety of field staff and the efficiency of coordination with remote teams.

Here are examples of key scenarios where Inrico helps:


Real-time communication for field teams
PoC radios ensure instant connectivity among field teams, enabling supervisors to relay instructions, address issues, and coordinate tasks efficiently.

Logistics and transportation

PoC radios streamline communication between drivers, dispatchers, and warehouse staff, enhancing logistics efficiency and reducing delivery delays.


Construction sites

PoC radios provide construction teams with seamless communication, allowing project managers to monitor progress, address safety concerns, and manage resources effectively.


Healthcare facilities

PoC radios support quick communication among medical staff, nurses, and security personnel, ensuring prompt responses to emergencies and patient care.


Security and surveillance

PoC radios play a crucial role in security operations, enabling security teams to coordinate patrols, respond to incidents, and maintain a safe environment.


Remote site monitoring

PoC radios facilitate communication with remote or isolated sites, allowing businesses to stay updated on site conditions, safety protocols, and progress.


Event management

PoC radios aid event organizers in coordinating security, staff, and emergency response teams, ensuring smooth event operations and enhanced attendee safety.


Hospitality industry

PoC radios enable swift communication between hotel staff, improving guest service, room turnover, and overall guest satisfaction.


Manufacturing plants

PoC radios enhance communication between production lines, maintenance teams, and supervisors, streamlining production processes and minimizing downtime.


Retail environments

PoC radios facilitate communication among store associates, enabling them to respond to customer inquiries, restock shelves, and manage inventory efficiently.

Get cellular data for your PoC device
For PoC devices, a cellular connection through SIM cards (LTE, 4G, or 5G) is essential. We offer SIM cards on a simple month-to-month billing cycle, providing you with 500MB of data for seamless PoC radio connectivity. If you require customized coverage, contact us to discuss your specific needs. Let's chat!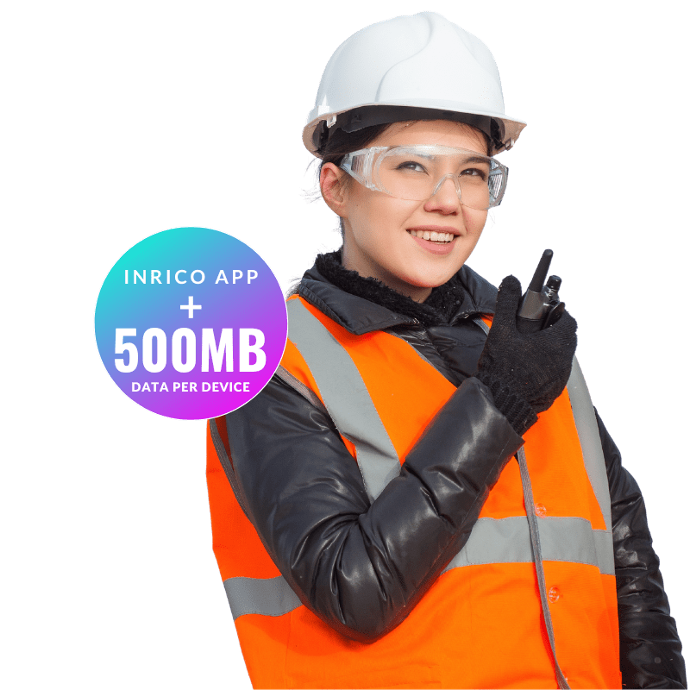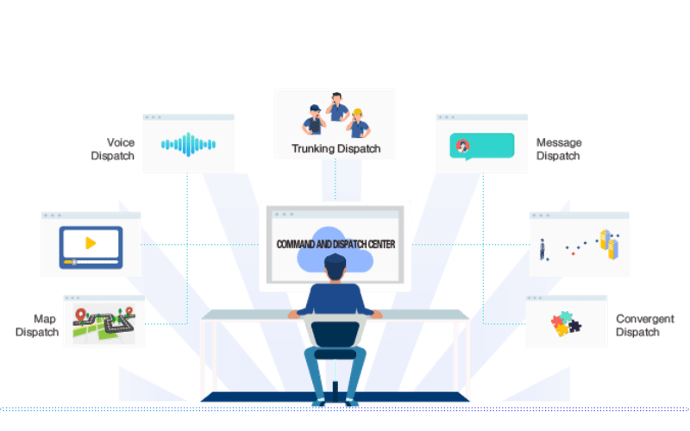 Inrico Dispatch Console

The Inrico dispatch console enables dispatcher management view in multiple windows. Unlike the Inrico App, the Inrico Dispatch Console can only be installed on a PC, and serves as a command center for the unified management of Inrico PoC radio terminals. However, for flexibility Inrico Dispatch Console can be accessed through a browser.
Through the Inrico Dispatch Console, the dispatcher can facilitate GPS positioning, group calls, patrol, SOS alarm, message saving and much more. It also supports: desktop PTT mic and messaging for simplified PoC radio dispatch, it can be portable, and can be used in multiple scenarios.

Inrico PTT Management Platform designed for enterprise
Effortlessly handle user and group setups within your Inrico App communication network. Scale up your accounts as your business expands, organize departments with customized PoC radio features, manage billing, and enjoy a host of other functionalities to enhance your operations.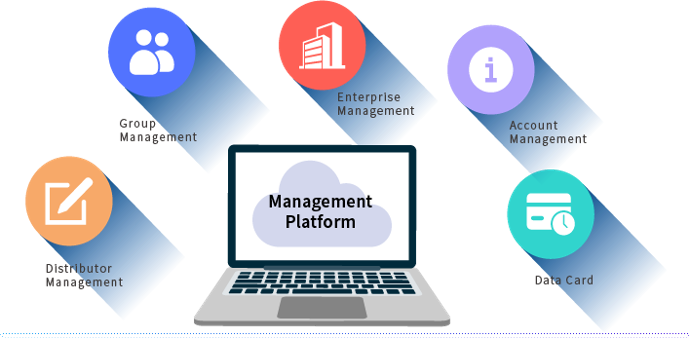 Smooth Integration
Collaborate with Inrico Canada effortlessly. We will work with you to integrate Inrico PoC radios seamlessly with your LMR (if needed).


Effortless Management
This centralized console can deploy to thousands of users within a day. Set permissions, and easily add or remove accounts as required.


Effortless Scalability
Scaling is a breeze. Deploy unlimited channels on multiple devices. Inrico grows or shrinks according to your needs.


Secure Communications
Speak with confidence. AES256 level encryptions are enabled by default to ensure end-to-end security, protecting your conversations.

To operate a PoC radio with its core PTT functionality, you will require: a PTT app, as well as a type of connectivity. Choose Inrico Canada to get the most out of your Inrico PoC device. Here are the plans and bundles we offer to help you start your journey.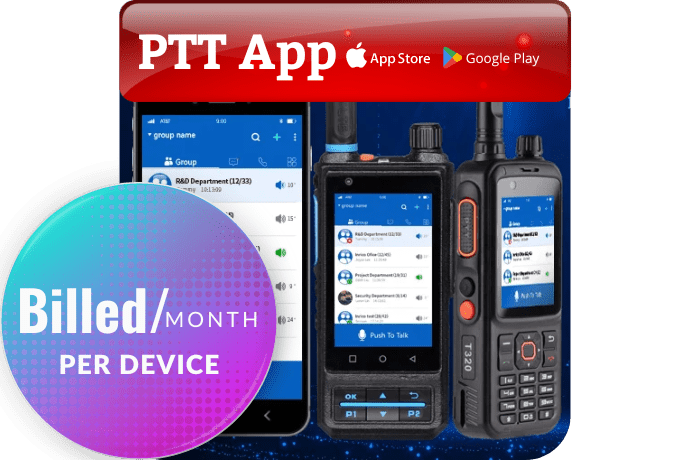 iConvNet
Subscription
Designed for easily integrating PTT functionality with a smartphone or PoC radio. You have the option to subscribe for iConvNet alone. iConvNet supports both Android and iOS devices.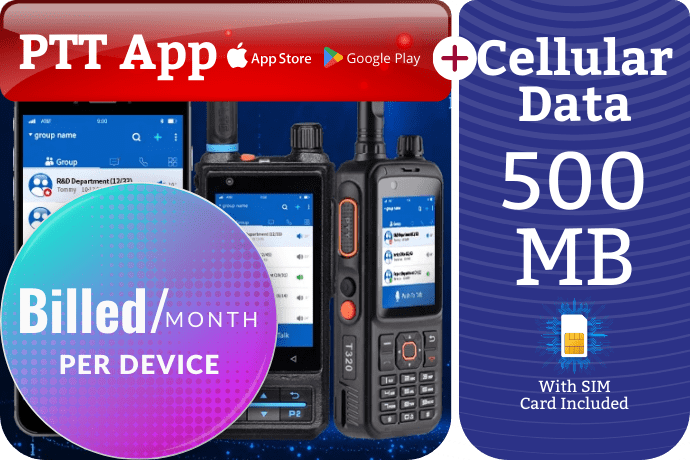 iConvNet Subscription
+ Cell Data
Inrico Canada also offers the option to bundle both iConvNet subscription with cellular data connectivity. This package includes access to iConvNet plus up to 500MB of cellular data from Inrico Canada.
---
Let's make it happen
Are you prepared to embark on nationwide PTT journey? The power of Inrico push-to-talk awaits! Our smart and expandable solutions offer instant push-to-talk voice communications, rich data features, as well as easy integrations to your existing LMR/PMR network. Reach out to us for sales inquiries or for a demo before you buy.

---
Curious about our pricing?
Looking for pricing details and more? Contact an authorized Inrico Dealer or Reseller near you. Together, we'll discover the ideal solution for your needs.